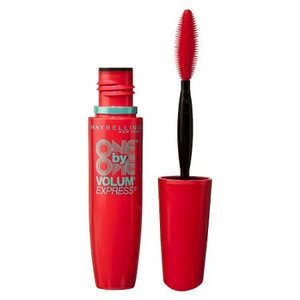 Retails for approximately $7-$9 CDN. It comes in a 0.3 fl oz tube.
I have mine in the washable format, in the color
Very Black
. This mascara is also available in 'washable' form in the colors
Brown Black
and
Blackest Black
. It comes in a waterproof formula too, but only in the shades
Very Black
and
Blackest Black
.
Maybelline boasts: "Finally, bold without the bulk! Instant clump-free volume." The site claims that there are 3 bristles per lash on the patented 'Lash Catcher' brush to "catch, coat, and de-clump" and "make every lash count." Each lash is supposed to be "fatter and flirtier" as a result.
It is contact lens safe and ophthalmologist-tested. They claim that it rinses clean with soap and water (or makeup remover, what have you...).
Maybelline's site encourages you to sweep the brush upwards from the lash root to the tip to add volume. You can add as many coats of mascara as you'd like, though they recommend you do not let the mascara dry between applications.
I bought this on a whim one day - not having done my usual extensive research and perusing of blogs and reviews to see if it was really worth my money. The packaging and theory of it all grabbed my attention and wouldn't let go.
Being a CoverGirl LashBlast addict, I appreciated the idea behind the large silicone brush with oodles of bristles to coat each lash and add volume, while separating to create definition and length. The unfortunate downside of LashBlast is that while it is... perfect in every other respect, it dries out far too quickly for my liking. I'm constantly replacing my tube every two or three weeks, and at $8-$9 a pop, I was searching for my new Holy Grail mascara.
So I picked this up in Very Black, which is rather unusual for me as I am a "Brownish Black" kind of girl, and went to pay.
The brush is one of those bendy silicone ones with a crap-ton of bristles on a shorter wand. The shorter wand allows me more control and precision when applying the mascara, as opposed to mascaras with longer wands that make this process awkward. The brush is larger, and tapers at each end - forming an oblong oval shape. The tapered ends really help to get in to the inner corners, and for creating that winged-out effect on the outer lashes. The bristles are bendy, and don't stab my lash line or eyeball like the wand for the L'Oreal Clean Definition Telescopic does. The bristles work WITH my lashes, not against them, to pull through for a clean, clump-free look. The brush does not come out of the tube with excessive amounts of mascara gobbed up on it, which is a definite bonus.
The formula is VERY smooth. And wet. I would almost say that it might be 'too wet' for some. While it is a wetter mascara, however, it does dry more quickly than other 'wet' mascaras I've tried. It coats every lash, while the plethora of bristles separates to give definition. It is easy to build up the formula with coats of mascara to get an intense volumized appearance - without looking like you have four eyelashes.
This is about 2-3 coats of mascara. Looks like fake lashes... *squee*
While the website recommends that you don't let the mascara dry between coats, it is very easy and manageable to go back later in the day and re-apply mascara without it clumping up and looking gnarly.
As I said earlier, I am not a "black mascara" type of girl, though I do enjoy this black. It's not 'TOO' black, but dark enough to add some drama. I can only assume that
Blackest Black
is the richer, more pigmented sister to
Very Black
(but don't quote me...).
I do not notice any flaking or smudging throughout the day; however, I have fallen asleep with this mascara on, and the mascara on the tips of your lashes will rub off into little flakeys on your face. But, if you no-touchy your eyeballs, your mascara should be fine.
This mascara withstands tears pretty well, also. So long as you don't rub your eyes as the lashes are wet with rain, tears, etc. the mascara will hold up pretty well... as soon as you touch it, though, it will transfer. Food for thought.
This would have to be my NEW Holy Grail mascara (sorry, LashBlast!!). For every day, it provides clean definition, volume and length. It gives me the coveted "fake lash" look I am always on the lookout for, yet still remains wearable for school and the office. It lasts EONS without drying out, unlike the CoverGirl LashBlast. There aren't flakeys on my face or smudges below my eyes, AND at the price, it's not about to break the bank... Plus, who doesn't love the gorgeous hot pink and turquoise tube??
I am eager to try the Waterproof version of this mascara, to see if it lives up to my expectations, having tried the washable formula and being thoroughly impressed.
Definitely 5 out of 5 stars.
* * * * *