In lieu of el broken camera, I decided to do a post on products that I've purchased within the past little while that were real 'misses' for me.
For the most part, I like to think of myself as a proactive shopper, in that I do my research before going and splurging on makeup items that I may end up loving (or hating!) later. I seem to be getting better at this for the most part, but occasionally I still have those moments where I walk into the store and I'm like.... GIMME! GIMME! GIMME! And I go all crazy and buy up everything I can see.
#1. EOS Ultra Moisturizing Shave Cream in Pomegranate Raspberry.
The smell of this product, I love. In fact, if EOS would sell this scent to Skintimate, I would be so freaking ecstatic. BUT, I hate the product itself. I don't know what the 'h' they were thinking when they made this. Because it's a shaving CREAM, not a gel/foam, it doesn't lather when you're shaving - okay. Well this stuff is so freaking non-existent that you have to use like the whole freaking bottle on one leg. And not only that, but this stuff clogs up your razor SO bad. I get done one leg and I'm considering breaking out a new razor for the second leg. The cream doesn't rinse free of the razor so you basically replace your razor every time you shave. I have no 'shave lines' to follow as a guideline when I shave because the cream doesn't really show any contrast on my skin. Blah. I did not enjoy this... in the bag to my sister it will go.
Photo credit: blog.timesunion.com/kristi/2356/dont-buy-this-shaving-cream/
#2. The Body Shop Body Wash in Dreams Unlimited.
My parental-units-in-law got me a little sample size of this for Christmas. I didn't grab at it at all after I got it, mainly because body wash/soaps and I don't mix. At all. Everything irritates my skin, my eczema, my acne... better safe than sorry, so I don't crack this out at all. When my sister came and stayed with Josh and I a few weeks ago, she used this in the shower. Whoa. The scent just about killed me... it lingered in the bathroom for days afterwards. It was so perfume-y and flower-y. *gags*
Photo credit: www.makeupandbeauty.com/the-body-shop-dreams-unlimited/
#3. Maybelline Instant Age Rewind Eraser Dark Circle Treatment Concealer in Light.
Now I may have actually liked this product had I picked it up in Fair instead of Light. Meh, I need to do a review on it, but I'm not one of the cult followers of this product. Ya, it holds up nicely but it's just sort of a gross consistency. The freaking applicator won't click up enough product, and then it clicks up too much... the concealer is thin, but heavy and cakes up on my undereye area. It settles into my lines. It's too orange-y/yellow for my skin... Blah.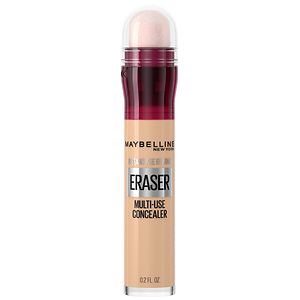 Photo credit: www.drugstore.com/maybelline-instant-age-rewind-eraser-dark-circles-treatment-concealer-light/qxp384747
#4. Maybelline Great Lash Lots of Lashes mascara.
This is a product I actually really loved, but it was irritating my eyes like no other mascara has ever done. Every night I washed this off, some of the residue from the mascara would end up in my eyeballs, and every morning my eyes would be all goopy and irritated like I'd had an allergic reaction. Not coolio. So I stopped using it and the problem went away.... but I LOVED it. Argh. I bought a backup bottle that's sitting in my drawer right now - into the bag for my sister or mom it goes.
Photo credit: worldaccordingtoshia.blogspot.ca/2011/11/maybelline-great-lash-lots-of-lashes.html
#5. Maybelline Fit Me Blush in Light Pink.
I picked this up a while ago, actually, but it's been sitting in my drawer for just as long. This has been such a waste of money... It's chalky and powdery, sheer-as-all-get-out, shimmery, and has that disgusting old-school Maybelline/CoverGirl powder scent. No matter how heavy handed I am with this blush, it refuses to show up on my cheeks.... and that's saying something! My skin lacks pigmentation - if anything, this should be too bright or bold for me. Save your money (haha, I feel like the ING guy).
Photo credit: www.tamaraolsondesigns.com/tl/2209/maybelline-fit-me-blush-light-pink/
#6. Maybelline Baby Lips in Peach Kiss.
In all honesty, I like the idea of this product. I just don't use it enough to justify having purchased it. It's mediocre to me - nothing spectacular or stand-out-ish. It may be fantastic for some people, but it's just 'okay' for me. I could care less, and it would bulk up my purse less if I didn't have it at all...
Photo credit: www.target.com/p/MAYBELLINE-Peach-Kiss-Baby-Lips-lipbalm/-/A-13521056
#7. Paul Mitchell Extra-Body Sculpting Gel.
I picked this up on a whim as London Drugs was having a 20% off sale on Paul Mitchell products. Meh. I don't think that this does anything for my hair. I keep trying it - on dry hair, on wet hair, on styled hair, before blow drying, before straightening, before curling, to scrunch definition into my curls... It doesn't seem to do anything at all. In fact, it seems like it might weigh my hair down and do the opposite of building body. This wasn't a cheap miss either...
Photo credit: www.kaboodle.com/reviews/extra-body-sculpting-gel-thickening-gel--paul-mitchell--extra-body--200ml-6.8oz
Wow, Maybelline seems to have made it on my hit list a lot this time around. And it's not even that I'm horribly disappointed with all of their products, I just could've saved myself money by not picking them up.
All-in-all, these are my product regrets from the past little while. It's a really sad list actually; I shouldn't have anywhere near 7 regrets. Such a waste of dineros. *Sigh de la sigh* Reviews on these products will be coming in the future!!
What are your product regrets of recent?
xoxo